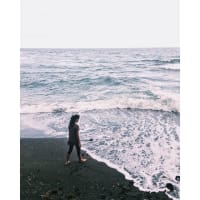 Hello, I am A. That's a shorter name for Addy and for me, A sounds perfect.
I am currently a Psychology student and will be graduating in 2017, if God wills. Blogging or writing is not really my hobby, it's just my way of trying to converse with the world and my way to express that small dose of creativity I have in the form of words.
I am a member of a few community, school, and church service organizations and clubs like the Rotaract Club of Iligan East, the Organization of Student Peer Facilitators, and the Parish Youth Apostolate. All those are some of the many clubs present here in my small city. Community service is really my thing because I love people. I love to interact with people, observe and connect with people, and all other similar stuff.
Three main things to expect from me:
Posts related to Psychology.
It's like a language to me. I know a lot of other source of topics, but Psychology is like my Mother Tongue. I will do my very best to get you guys interested to this very beautiful field.
Poems.
I'm not a professional poet, but I love rhymes. When I write one phrase, I find it fun to look for another phrase with similar sound and connective idea. It's something I like to do when a heavy emotion or extreme boredom strikes.
Totally random posts.
I think this is the main purpose of this site: provide an avenue for writers to express their thoughts and provide readers random interesting stories to waste their time with.
If there's anything else to expect, that's this: all the posts here, not just mine, come from our hearts. We intend to make you happy, dear readers. Be happy! -A
Know more: https://mscurls.wordpress.com/about/