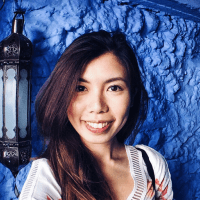 Hello all, I'm Bobo with a wanderlust mind who always have the urge to travel. Travelling is like an endorphin booster for my life, it always leaves me with good memories for life time. The more you travel, the more you feel how amazing the Mother Nature is and how tiny we are.
My professor once told me, the reason why people travel could be because of the majestic architecture, the exotic food, the breathtaking landscape and most importantly, the people. It is always the people that helps you connect with the place you are travelling with, that you are falling in love with.
Recently I have been to Morocco and the first time I truly understand why people is always the most important elements during travel. There are always good people and bad people in the world. I am super glad many of the Moroccan we came across were super friendly and welcoming; they showed us around the city to explore different famous spots; took us to try authentic Moroccan food; offered tips and advices on travelling around Morocco… They are the reason that makes travelling so fascinating, so addictive.
I hope to share all my good memories encounters through this blog; and I will be delighted if you can share with me: Why you travel?