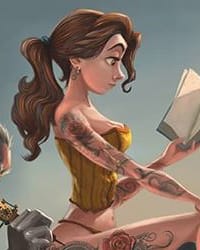 I'm 16 years old girl from Serbia (ex Yugoslavia). I'm attending High Medical School and I'm starting my junior year this September. But yeah, that's me, just another teenage girl who loves to write, read, listen to music, watch Bones (yeah, THAT forensic series with the hot buff guy from Buffy – the Vampire Slayer), AHS (American Horror Story), Gossip Girl, and who can never get enough sleep.
Special talents : I'm (or I was) really good at playing violin and I finished music school (and I hated last 2 years of it)
Bad habits : biting nails
Favorite smells : male cologne, smell of a new book, coffee, vanilla scent
Favorite sounds : the sound of the rain (shoutout to rainymood.com for making my every day great)
Don't forget to check out my blog! For all questions, suggestions and feedbacks in general, you can contact me here.