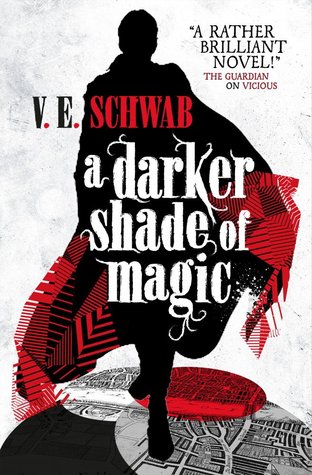 Synopsis: Kell is one of the last Antari, magicians with the ability to travel between parallel universes, linked by the magical city of London. There is Grey London, where magic has been all but forgotten, prosperous Red London, where magic thrives and vicious White London, where magic is dying. Once, there was also Black London...
---
My biggest question is why did I not read any of Victoria Schwab's books until now? Why has no one made me? I absolutely loved this book. I loved everything about it. I loved the world, I loved the characters, I loved the story.
A Darker Shade of Magic has such an amazing premise. I don't think I've ever read a book about inter-dimensional travel. And this particular system was so cool. The way each London was built, all different, but also a little bit the same. The difference in culture and language between the different Londons. I loved it!
The characters were great. I really enjoyed all of them. Often, characters in a book seem like slightly different versions of the same person. But Kell and Lila and Rhy and all the characters in this book were so uniquely themselves, it was very refreshing. The dynamics between Kell and Lila and between Kell and Rhy were so good. I also liked that there wasn't any of that "we've-just-met-but-we're-soulmates" kind of romance. In fact, there wasn't much romance at all, just the subtlest hints.
The story itself was so masterfully done. It was a more or less self-contained adventure, but it left so many doors open for future adventures. It left so many questions to be asked. There was just the right amount of information revealed, just the right about of hints left to maintain the mystery without frustrating the reader. That is really good story-telling.
Last, but not least - Kell's coat. I loved that coat so much I feel like it deserves its own paragraph. It's just so full of character, it almost felt like it was a character. I thought it was such an ingenious little thing and it really enhanced the reading experience for me. I suppose it's a strange thing, but somehow that coat brought the world and the story that much closer to me.
I am really looking forward to reading the next installment and also some other of Victoria Schwab's books. I think she has become one of my new favourite authors and I recommend her wholeheartedly, even though I've only read the one book. I am confident that her other books are amazing as well, especially that I have yet to read a synopsis of one of her books that did not intrigue me.
Published by Romana Pop