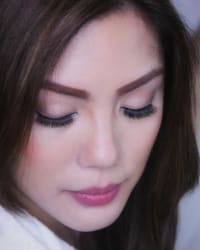 She was 7 years old when she started buying magazines. Growing up in Italy, she fell in love with fashion since she learned how to read and have always thought that she would enter the fashion industry. An event however brought her to another career. She entered the corporate world with the hopes of bringing jobs to people. With jobs, she thought she can change people's lives and give them hope for a better future.
She worked for different industries, building a name for herself and eventually becoming one of the youngest and most admired Org Consultants. She however never stopped her passion for fashion. She would attend seminars, photoshoots, vtrs, different events. She travelled greatly, Italy, France, South Africa, Middle East, Asia and have experienced different cultures.
She started blogging about a year ago and concentrated on people who make a difference. Now, she is building her talent on her first love and this is her attempt in fashion and beauty blogging. Since she believes that travelling and fashion go together, she will speak about her travels too.
She often gets asked about her style and was regularly requested for styling advise. Praised for her fashion and comfortable style, when questioned if who, what and wear she bought her clothes from, she would answer jokingly: "call my stylist" .
So, expect outfits for travel, photoshoots, fashion advise on this blog.
"Regardless of the difference in culture, what remained in common is the importance of individuality. Each individual have their own sense of style. Such freedom to be able to express oneself even just through a small simple bag.
IF you live and breathe fashion like her...Feel free to send message.. Let's talk :-) "
Instagram: carlafrancesperez
site: www.carla-perez.com
- Carla