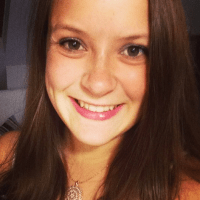 Follow me on my personal blog, extrapostageneeded.com!

My name is Christie and I'm a millennial trying to balance the everyday tasks of adult life while still hanging on to my youth. As I've grown older, I've become obsessed with traveling and I'm very intrigued by other countries and their cultures. It fascinates me how unique different groups of people can be and what unusual traditions there are in other parts of the world.
When I'm not traveling I work as a Pension Consultant designing retirement plans. I am a math nerd at heart, currently studying for the first of many actuarial exams with hopes of passing it this Fall.

Balancing work with other aspects of life is difficult, but I try to stay as active as possible each day. I love to run and now that Pokémon GO is out I have a new reason to venture out of my house. Aside from running I have also played softball, soccer, and rugby at different times in my life.

If I'm not at work or on a run you might find me reading a thriller novel, writing posts for my blog, or watching Netflix. My favorite recent read was The Girl on The Train and I'm still searching for my next good book. I am an extremely accomplished tv series binge-watcher, currently catching up on Game of Thrones.

Although I'm an introvert, I aslo like to hang out with friends. I love hosting wine and cheese parties (because who doesn't love cheese) and going out to brunch. Most of my social gatherings revolve around food and I am perfectly fine with that.

My main goal in life is to make decisions based on my own personal preferences rather than being swayed by the opinions of others. Too many people life their life with regrets and I refuse to be one of them. Despite my introverted nature, I plan on living my life like Ellie from UP...always ready for an adventure.