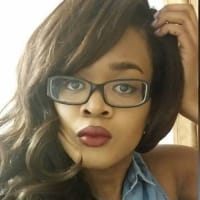 Hi fellow foodies! My name is Crecynthia! :)
I'm 23 years old, I love food and I absolutely love to write! So naturally I thought I'd combine the two and I started my food blog Flavor me this. I love finding new restaurants or hidden gems to dine at with my friends and I love sharing my experience with others. I always post my pictures on Instagram but I started feeling that just wasn't enough. We may eat with our eyes and start salivating at the sight of a tasty food pic, but I also feel that vivid descriptions can really sell it! So this is my creative space where I can share with you my food experiences from my home in San Diego, foodie finds in Washington D.C. and everywhere in between! Occasionally, I'll post a recipe as well! Now, I'm no Gordon Ramsay. I'm still learning to cook! So you can learn with me as I take on the beast that is the kitchen!
∼∼∼∼∼∼∼∼∼∼∼∼∼∼∼∼∼∼
5 random facts about me:
I love classic films. I'm a huge Bette Davis fan!
I write poetry and I'm currently working on a crime novel.
I've never been outside of the United States! It's my dream to travel the world!
Some of my favorite things to eat are Carne Asada burritos (best found in SD of course), sushi, and burgers. I'm always on the look out for the best burgers!
My dream is to become a published novelist and write for a food magazine.
∼∼∼∼∼∼∼∼∼∼∼∼∼∼∼∼∼∼
So now you know a little bit about me! Follow me on my food adventures as I taste the world one bite at a time!
P.S. You can access my Instagram at flavormethis_