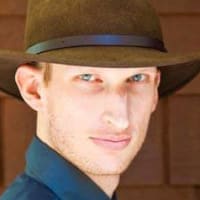 I am currently undergoing a Research Assistantship/Master's in Earth and Space Science at York University in Toronto, where I am investigating several small science mission scenarios around Saturn and on its moon, Titan. I was born in Seattle in 1986 and grew up in Gig Harbor, a small fishing town in the middle of Puget Sound. My passion for space started when I was a toddler, when I first saw photos of Earth taken from the Space Shuttle. Since then, I have overcome the additional challenges of being deaf to land a position in SeaSpace's astronaut corps.
I studied mechanical engineering at Tacoma Community College and, in 2010, interned at Tethers Unlimited where I helped develop the HYDROS thruster for CubeSats. I then led an experiment on board NASA's parabolic aircraft in 2011, investigating the behavior of water droplets on fuel-cell membranes in microgravity.
In the same year, I transferred to York to pursue a broader interest in space science. There, besides studying physics and space mission design, I used my mechanical engineering expertise to design a lightweight chassis and special joints for the university's rover. The resulting performance advantage ensured a first-place victory at the Mars Society's University Rover Challenge in 2012.
A year later, I answered the call by the Inspiration Mars Foundation to design a two-person flyby of Mars using existing hardware. My team got 11th place out of 38 competitors worldwide. But more importantly, I took away from the experience an increased knowledge of current life support systems and their limitations.
During my last year of undergrad, I worked with a veteran of the Curiosity rover science team to produce a peer-reviewed paper on a balloon mission to explore the Martian northern polar cap.
In my spare time, I have developed and built a cryogenic carbon dioxide scrubber that promises to reduce astronaut life support logistics over existing chemical-based scrubbers. I have tested it three times at NASA Ames Research Center, and plan to obtain several grants to continue work on future prototypes with the goal of commercializing the invention in the near future.
I obtained a PADI open-water scuba diving certification in 2013 and have completed six dives in Washington state and Hawaii, including a shipwreck at 100 feet. I completed aviation ground school while in high school, and plan to get a private pilot's license in the near future. I am bilingual, fluent in both English and American Sign Language, and am currently learning Spanish. My hobbies include science fiction writing, video-gaming, and chess.
You can follow me at:
Facebook: https://www.facebook.com/eric.shear
Twitter: https://twitter.com/RenegadeOmega
LinkedIn: https://www.linkedin.com/in/eric-shear-6220b313