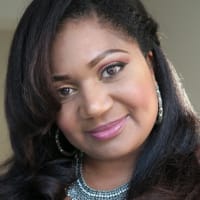 Hi Welcome! I hope you will be following me to get tons of inspiration on all things Health, Hair & Beauty! I am a medical doctor who happens to be obsessed with all things hair & beauty. I love making hair tutorials showcasing weaves, braids, extensions, wigs, natural kinky curly hair....on YouTube @Hair by Habiba. I also love all things DIY, art, food & travel. Somehow I manage to balance my responsibilities as a physician, wife & mother of three children with all my creative projects.
I was born in London England, raised in Nigeria and then New York city. Graduated from Cornell University before medical school at MUSC in Charleston SC and residency in Internal Medicine in NYC. Yes most doctors have busy lives but we can also make time to do the things we love and value. I must tell you I also make an awesome Jamaican rum cake and curry chicken!
So as you can tell my interests are wide but on this blog I will focus on Hair & Beauty while throwing in some important lessons about your health. Have a question or subject you want covered please feel free to ask! For example women's health concerns like UTI'S ( urinary tract infections), lack of sexual desire, vaginal discharge, hair loss, anxiety & depression are all potential topics. Men are patients too and may have concerns that include fatigue, depression, erectile dysfunction and I don't mean just the older men! I also hope to cover common concerns that affect both males & females like STD's. On that note don't forget to have safe sex, be brave enough to live the life you want with purpose & love.