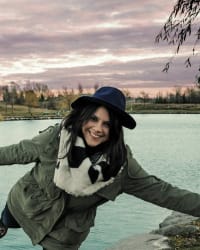 My story

My name is Jen, I'm from Colombia and I moved to Montreal at the end of July in 2013. I've been exploring, learning, working, studying and loving ever since.
I'm a professional in advertising, a tech in Multimedia and Video and a full time graphic designer.
I'm here because I always like to share all those little projects I work on, inspired by many other blogs, always with my touch of course. I've always been very crafty, maybe seeing my grandma creating amazing home decoration items or my mom having the perfect solution/answer to all home related issues woke up in me that interest to create things with my hands, and now thanks to the internet we basically have no excuses, everything is possible to learn or find.
My boyfriend is the handiest person I know and every piece of wood he touches becomes an amazing piece of art, we're always on the move exploring and working on little projects for each other, somebody else or the house we share with our little kitty Rhino!
Welcome!