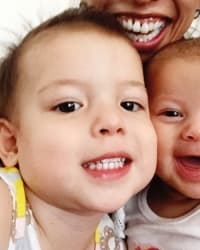 Hi, I'm Jess, and I am from Perth, Australia.
I am a 30 something mum of two giggling girls, a partner in crime to a gorgeous human who I married 10 years ago, a lover of lifting kettlebells, and a clinical psychologist.
I couple of years ago, I became a mum and I was thrown into the rollercoaster ride of parenting. Then 18 months later, we welcomed our second daughter and in the blink of an eye, I became a mum of two under two! I started blogging to not only share my little stories and discoveries in my journey as a mother, but also in hope to reach out to other fellow mothers out there. Parenting can be a lonely journey, and this is my way of extending my hand out to say hi, and I am with you too.
You can also find me at thatlittlecoffeeshop.wordpress.com - feel free to pay me a visit! I hope you stick around and pop by from time to time. I would love to hear your thoughts too, so drop me a line and say hi.