Here where many wage wars, little heroes fight their own battles armed with a dash of hope and sprinkles of innocence, coated with a touch of loved ones' tender loving care. Every smile has a story.
Imagination takes flight and little Masked Angels make where sweet dreams lie, to bask under the morning sun or traipse on a moonlit night calling out to friends hidden behind trees or under makeshift carton houses. "Pung! Huli ka!" they cry out racing towards the base to be saved.
They run and laugh and play. Sometimes they tumble. But heroes are made of sturdy stuff. After every fall they take a stand against unseen enemies in defiance. Sometimes, imagination flies back to the classroom—there's the little girl he loves to tease; there's the little boy who gives her candies; there's the art section with the flowers, cars and matchstick men all drawn from their little happy hearts.
"Riiinngg!" shrills the school bell as they race towards the sweet promise of recess. Life's lessons seem much simpler in the confines of the classroom. Yet Masked Angels leave its four corners to learn more, much more, about living. Still, even heroes need their heroes. In moments of weakness they come back to home where wonderful kisses and warm hugs await to soothe their tired, frail frames. Surrounded with love, they are comforted by the thought that all is well in their perfect world.
But a perfect world does not exist and the world needs its heroes to dwell where courage is needed. Here where they are most vulnerable, the Masked Angels bravely fight their own battles surrounded by cold machines, going through rituals that test their strength and endurance, wearing masks to shield them from the onslaught of hidden fiends.
Questions are but full of the why's: Why can't I go home? Why can't I go back to school? Why does Mommy cry when she thinks I'm not looking?
Like mere humans they cry in pain and suffering, like Superman meeting his kryptonite. In all this, the Masked Angels emerge victorious, finding time to smile and laugh and be happy like it's the most natural thing in the world. For in their heart of hearts, they know that life is all about holding on and fighting the good fight.
What you learn from a smile of a child – a story of hope, love, courage, and living.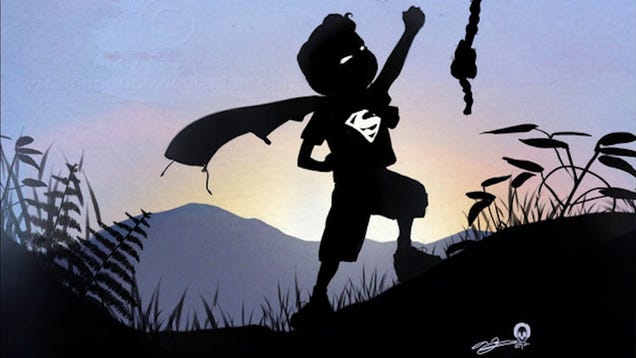 Copyright © 2006, 2011 J.Gi Federizo
All Images Copyright © Andy Fairhurst
************************************
NOTE: The Masked Angels was something that I decided I would write for our magazine, it was not something assigned to me. "Masked angels" because most of the time, I saw them with masks on to cover their mouths and noses so they could be safer from viruses and such that could weaken their immune system.
This was written as a photo-essay about children in the cancer ward for The Big C magazine (January-March 2006, Children's Hour section). The publisher was The Core Group Publishing, Inc. All images here, I only found through the net. These very nice images were created by Mr. Andy Fairhurst. Check out his DeviantArt works! And this is his site: AndyFairhurstArt.com.
Did you like this story? Feel free to express it by pressing the LIKE button. Or do you have a constructive comment to share? Feel free to let me know! Write down your thoughts on the comment box below or email me at j.gi.federizo@gmail.com.
Published by J.Gi Federizo