I am writing this at exactly 3am in the morning, where you, Coldplay, saved my life. I am a suicidal person, I was about thinking of taking my own life, but somehow, your songs managed to stop me. I was having a hard time coping up with myself before. Because I was bullied. The reason is my Physical Appearance. I guess, people get that a lot when you're not good looking.
I was a grade six student back then when I first heard your song "Fix you" at first I was ignoring it. But that time, at 3am, I was really having a hard time deciding whether should I stay or should I go, and guess what, out of no where, I heard you. I heard your song. It made me cry. So much that it made my heart sting. The feeling of heart burn, tearing, everything.
Everything was so black. I couldn't think straight, but somehow, I heard your voice. I heard everyone's voice. I couldn't here the sound of my screaming anymore, instead, all I can hear was your song, your voice. The black pitched roomed turned into a beautiful colors of red, yellow, green, blue, everything. there were floating as if someone has casted a spell on me.
Ever since then, I promised myself not to stop listening to your songs. That is how I can only show my gratitude. And up until now, You guys are still my one and only, love and savior. I heard that you guys will disband soon. It literally, made my heart broke into million pieces.
Coldplay, I love you too much. To the point that I am proud and honored to share my love to everyone. This is my story, our story, Under a sky full of stars, Thank you for fixing me, thank you for the paradise you have given. Thank you for giving me a yellow world. Thank you for the magic and to have an adventure of a lifetime. You guys are the best! Just like this kid, keep inspiring more people!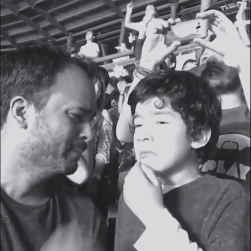 Published by Lindsáey Erianne