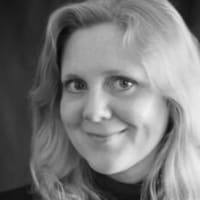 Lucy Brazier is in her thirties and lives in the university city of Cambridge, England. She started writing from the age of ten when her primary school teachers where at a bit of a loss as to how to contain her effervescent personality.
They tasked her with writing stories for the younger children in a bid to keep her from disrupting her peers.
Lucy developed her skills throughout her teenaged years, when she was inspired to read the works of Homer, Livy and Virgil. Her teenage years also saw her develop her other great passion of music, where she heartily threw herself into several years of misbehaving and playing bass guitar in unsuitable rock bands.
She widened her literary horizons through the works of Terry Pratchett, Flann O'Brien and Oscar Wilde – the latter of which remains to this day her favourite writer. Lucy developed a penchant for the unusual and the absurd, something which was surely exacerbated by her time serving in the police where the many varied experiences and characters she met had a profound effect on her outlook on life.
After seven years on the front line and driven by a fascination with Inspector Morse, on a whim Lucy applied for the job of Deputy Head Porter and one of the foremost Colleges of Cambridge University. To her great surprise, and that of many others, she landed the role as the first female to don the iconic bowler hat in the College's six hundred year history.
Having left formal education at the age of sixteen with little to show for it, being thrown in among the academic elite was something of an eye-opener. Documenting the quirks and foibles of College life on social media, Lucy was soon persuaded to start a blog – Secret Diary Of PorterGirl. Acutely aware of the dim view taken by College officials of any slight upon their reputation, she wrote anonymously and in such a way as to disguise the true identity of the now notorious Old College.
However, being quite possibly the worst Deputy Head Porter of all time made her decide to hang up her bowler hat and pursue her dream of becoming a writer. Lucy considers this the best decision she ever made.
Facebook https://www.facebook.com/Portergirl-166564516883538/
Twitter https://twitter.com/PorterGirl100
Secret Diary Of PorterGirl https://portergirl.com/