Digital transformation is a reality, and every business is looking for ways to digitize its processes at every level. Companies seek newer and innovative technologies that can automate their processes and keep them ahead of the competition.
Businesses saw the need to have an agile and scalable technology that brings together UI, content management, CRM, marketing automation, analytics and more in a single platform. It, perhaps, explains the origins and need for Liferay portal development – a specialized digital experience platform.
Points to Keep in Mind when Upgrading Liferay DXP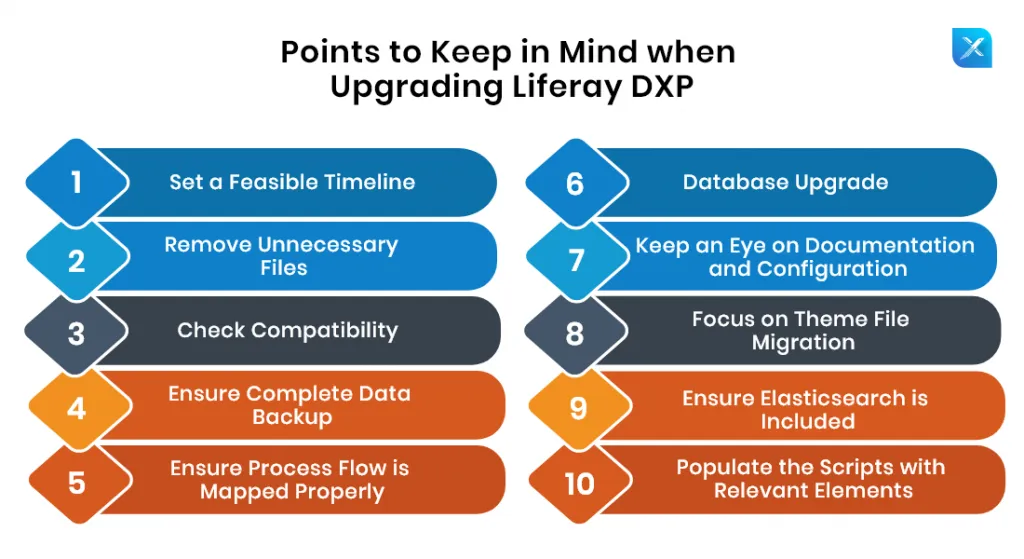 Liferay is a fairly straightforward enterprise platform that packs in many features and benefits for businesses looking for an agile, scalable and simplified solution for their business needs. Liferay DXP is especially useful for companies looking at Liferay migration and up-gradation.
1. Set a Feasible Timeline
The age-old adage, 'if you fail to plan, you plan to fail' is true even when upgrading your Liferay portal.
2. Remove Unnecessary Files
Once you have charted out a plan, start the up-gradation process by removing all unwanted files and objects.
3. Check Compatibility
Before proceeding further, we suggest you check the compatibility of your existing enterprise environment with DXP. You must make sure your legacy environment is compatible with DXP and is in a supported environment that can receive support.
4. Database Upgrade
Liferay DXP makes use of the OSGi framework container – a new deployment strategy. Although Liferay DXP recommends you use OSGi bundles for new Liferay development, you can still use WARs in Liferay. Still, you should note that you might lose all the access to services deployed to the OSGi container.
Liferay Portal Migration is the step ahead for enhanced customer personalization and process automation. Here's everything you need to know about Liferay DXP migration.
Published by Mahipalsinh Rana