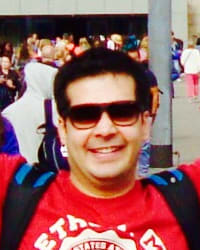 Namaste!
It gives me immense pleasure to see you here. An informal introduction might help to break the ice between us and perhaps then we can walk together in this community. I am Manav, a regular guy who loves to eat, travel and socialize. The first thing you should know about me is - I prefer keeping it simple.
I think life is too short to make things complicated.
Carrying a - Let's Go - attitude, I am never tired of exploring new places. I enjoy cooking and experimenting with different ingredients. I strongly believe that every day is a new chapter which makes learning a lifelong process.
Being lucky enough to travel all over the world, I have met a lot of interesting people and have dozens of stories to share. In order to share all that, I started a blog. It's a platform for me to share some of the food recipes I have tried, restaurants I have attacked and places I have visited. I am excited about the thought of spreading healthy and happy living through food and travel. I also hope that you will join me on this journey and share your ideas.
If you think, you and I have similar thinking then just let me know as I would love to see and share what you write!
Hoping to see more of you!
Click here to follow me on Instagram