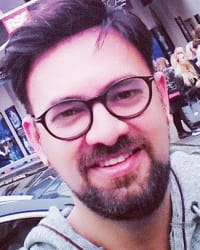 I am a Pakistani who's lived in Saudi Arabia, UAE and the US and now settled in his hometown of Lahore, Pakistan. As far back as I can remember, I've been an avid book reader and movie lover (horror genre is my thing!) and hence have pursued my love for writing by sharing my reviews.
I am 6 feet 4 tall, love roller coasters, wants to travel to Japan and Brazil one day and am addicted to Reese's peanut butter cups. I am also a huge foodie, who loves trying out new food when traveling.
I have two awesome siblings and three super awesome nieces and nephew.
I have recently adopted a cat (mixed Siamese-Persian) who keeps me very busy.