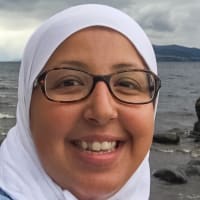 Hello, this is Marwa!
I never thought I could write till I wrote that travel piece for a friend's online magazine, a piece that got published in a travel book last year and was the reason why I started my blog (The "About Everything" Blog). I thought I would only write about travel and travel experiences but ended up writing about other ones as well.
I like to read though I started reading only few years ago. I appreciate good music regardless of its genre. I'm a novice photographer. A Capricorn which makes me meticulous and organized like crazy sometimes, not that I can do anything about it, zodiac sign hazard I suppose. I love nature and spending time outdoors. I have a bad knee but it doesn't stop me from hiking whenever I can, I end up in pain afterwards but it's just worth it every single time. I'm a sunset junkie. Fond of traveling and yet I don't travel that much, but whenever I do it has to count.
I hold a master's degree in mathematical statistics from Cairo University and have been a university teacher ever since I graduated. I'm an Egyptian who moved to Kuwait over a year ago to join the academic staff of one of the universities there. A job that I got completely out of nowhere but the experience was so intriguing that I had to say yes to it. I love teaching and always thought this is all what I wanted to do with my life but I can't be that sure anymore! Maybe it has something to do with being reluctant to start on that PhD phase!
My writings are my greatest accomplishments I believe. To have the courage to put my thoughts and feelings into words knowing they might inspire someone gives me tremendous contentment. I like to think of myself as an optimist but I do get my down times too which is quite normal I think. The important thing here is to learn from them and rise above all those insecurities afterwards, isn't that what those bad times are for?
I might be made for something else other than what I do at the moment but till that something reveals itself to me, I will keep on living, learning through experiencing, and writing about it.