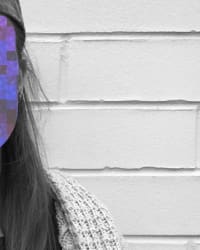 I am the Founder and Creative Director behind the mission of Unpolished Journey, a organization working to bring awareness to eating disorders and eliminate societal standards of beauty. I am currently a senior at School of the Art Institute of Chicago studying writing, film, and art therapy. I also have a deep love for the ocean, scuba diving, and underwater photography. The ocean has been my solace, peace, and escape through my personal journey towards recovery from an eating disorder and mental illness.
I have struggled with disordered eating and views of my body for the majority of my life. These distortions were quick to escalate into an eating disorder (ranging from bulimia to anorexia and back again). But, as those of us with eating disorders know, I was the master at hiding, lying, and maintaining my disease until finally at age 18 I crashed, burned, and finally sought treatment for my struggles. Through the love, care, and support I found over the next two and a half years of treatment, I finally started to build a life for myself. A life free of the lies, rules, and restrictions the disease had chained me to.
Part of my recovery journey has been learning to speak about my experiences. My writing is a medium in which I can share my story in hopes that others struggling will be able to connect and find support . As my recovery has grown, so has my vision for my work in advocacy. Now, my organization is paired with Instagram, Twitter, and Facebook pages all working to eliminate societal beauty ideals and preach acceptance of ourselves in the present moment. On Unpolished Journey's sites, numbers, weights, calories, diets, or traditional views of beauty do not hold any worth and this rings true for any work I do. My desire is to strengthen the soul in every reader to give you the ability to reach inside yourself and find what gives your life meaning. Because it is meaning and purpose that make someone beautiful, not the size of your pants or the number on your scale.