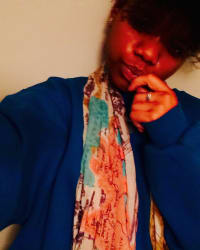 [I am introverted and F.A.T.]
Digital Scribe. Detroit Millennial.
I am not just Me though.
Or my nicknames/ titles.
But I am a blogger amongst many.
A daughter to my parents.
A sister to my siblings.
A friend to peers.
A neighbor to my community.
A citizen to Detroit and U.S. and the world.
I have multiple identities, meaning I have different social structures affecting how I go about my day.
With each decision, comes some influence from one of the many identities I hold.
And I want to make sure that I am consciously making the best decisions for myself.
And as a natural born writer I had to create a space for me to share.
I am interested in literally everything that is best for a life well lived
(mentally, physically, nutritionally, and socially).
More specifically I am interested in
SMART habits
(Specific Measurable Activities that Result in Transformation).
I have lost and maintained an 80 pound weight loss
and went from not wanting to be who I was to a self-loving "Positivitist."
I heard a quote that said, "Life is only as good as your mindset."
I'll let You ponder on that....