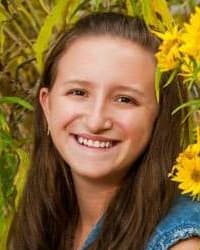 Hey there!
I would like to think there's a lot about me that makes me unique, but I don't know how interesting that would be to anybody else. So I'll try to make myself and my life seem as exciting as possible. So here goes.
I was born and raised in a small Colorado town called Bayfield. It's a great place to call home, let me tell you. The community is so small that no matter where you go, you're bound to run into someone you know. A lot of people wouldn't like that so much. But I do. I think it's one of the best things about Bayfield. The town is super supportive of our sports teams and school activities. Everybody is involved in something. The whole town basically shows up to the varsity Wolverine football games.
We've got one stoplight and a grocery store called The Grocery Store. My graduating class was a grand total of 73! Can you believe that? Small, huh? But it's home, and I love it with all my heart.
I've got two loving parents who have given me everything I could have ever needed in life. I also have a little brother–we're only eighteen months apart. When we were little, I used to be pretty mean to him. But then as we grew older, I realized he'll always be one of my best friends, and, honestly, my confidant. I am lucky to have him, and am so proud of all that he has done.
When I was about thirteen, that's when I decided I liked two things: writing and travelling. I had a big dream of travelling the world, seeing exotic and foreign places, and writing about it. I was lucky enough to pursue a trip with a group called People to People Student Ambassador Programs to Australia (my favorite country). To say the least, it changed my life. From there on out, I knew what I wanted to do with my life. I had pretty big ambitions for a thirteen-year-old.
All through grade school I had a solid group of best friends; I know I'll keep them forever. But after I graduated, I knew it was my time to start my life and go somewhere else. I had always dreamed of going to school in California. After several winters of deep Colorado snow and bringing firewood in my whole life, I was ready for the beach and warmth. I was lucky enough to go to my dream school, Chapman University. I'm only a sophomore now, but I have big goals ahead of me. I am currently a creative writing major and film studies and entrepreneurship double minor. We'll see where that get's me in life.
There's plenty more about me, which I am sure you'll learn about it through most of my writing. But just a short synopsis about some of my weird quirks: I love the movie Titanic more than anyone will ever know. I ran track all through high school as a sprinter, and I miss it dearly. I also played the French horn in concert and marching band for seven years. I love reading, watching movies, and taking pictures. You'll get to know me a lot more through my blog, school writing, and fun writing. I hope you enjoy it.
Sincerely yours,
Amy Roach