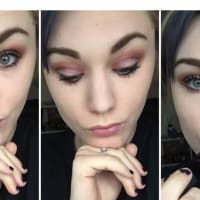 I'm Jamie, and to be honest, I'm awful at about me's, buuuuuut here we go!
A little about myself:
I'm a certified/self-taught makeup artist, I run my own business, I'm a "not-even-amateur" cosplayer, baker, book hoarder, Disney fanatic and letter writer.
I'm very passionate about makeup. There's just something artistic about completely transforming a face, from its natural beauty of course.
"But women shouldn't wear makeup, they're naturally beautiful, it's false advertising, etc."
False. Women can wear makeup if they want to. Of course every woman is naturally beautiful without makeup! But I personally do not wear makeup to impress other people, and neither should anyone else. YOU DO YOU GIRL (OR GUY)! I wear makeup because I enjoy actually DOING makeup, and I like how it looks. I like to experiment with different looks on a day-to-day basis.
I learned how to do makeup by watching YouTube tutorials by some of my favorite YouTubers, there's where the "self-taught" comes from. I also took a certification class in Makeup Artistry, where I learned the technical side of doing other people's makeup, sanitization, and customer service, as well as what I had already learned on the Internet, there's where the "certified" comes from!
As a hobby I started selling Younique products. Younique is a cosmetic company that doesn't just sell makeup, a percentage of what they make goes toward the Younique Foundation, which helps young women who were sexually abused as a child or adolescent. A cause that is so important to me, and I honestly love selling the product! More on that later.
Cosplaying is another hobby of mine. I can't say I'm particularly good at it, but I enjoy it. I've done three so far at two different conventions and I plan to do more when I can afford to!
I hoard books, nothing to explain there. I love vintage books. There is a used book store in my area that sells vintage books for $2.00 on Tuesdays and I go and stock up. I use them for decorating mostly. A lot of them are too old to actually flip through, I wouldn't want to damage them. But I also hoard newer titles. I have a never-ending "To Read" list that just keeps getting longer and longer (hence never-ending).
I love writing letters! I belong to a pen pal group on Facebook and I'm loving every minute of it :)
And Disney fanatic is self-explanatory. I love Disney, mostly the princesses, but I like the others too!
I've rambled long enough! If you want to know more you can shoot me a message :)
Thanks for reading :)