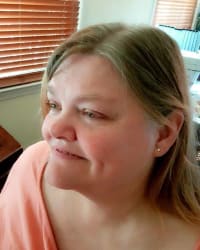 I am Vicki and I live in Kentucky with my daughter, her husband and their three children. I enjoy my time with them and I enjoy visiting my other daughter in Michigan and her husband and four children. I also take trips to my home state of Alabama where my son lives with his six children.
Needless to say, I have a lot of interaction with children. I also have an Australian Shepherd named Beau. He is my little buddy and he is one of the Muses in my book that I am writing called The Shepherds of Donaldson Park.
I have an active blog where I post book reviews, short stories and little bits about my life. I started it while I was trying to break through a writer's block that had been going on for quite a while. It did help and since I started the blog, I have taken to writing short stories as well as working on my full length novel. Click here to visit me there at The Page Turner.
In 2012 I published my first book which is a coming of age story about a lonely girl that finds her family history and friendship in unexpected ways. That first book is called The Path of the Child and is available by clicking here to go to Amazon.
Find me on Facebook and Twitter with the little icons by my name. If you are on Goodreads, I can be found there everyday too. I admit I have an obsession with books. It keeps life interesting.