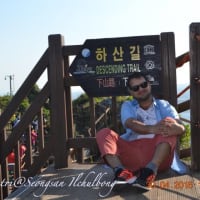 Hi there, myself a nomadic soul exploring the globe with my dream of letting my foot mark on every place on earth.By profession I am a software engineer…. Ya Ya I know you all will say a software Engineer, does he really have time to travel? That's why I want to share my experience with you all, that how to manage travelling while working and skipping that monotonous life once a while.I am one of those kind of species who work as a programmer in office premise while outside office a full time traveler even I don't mind to say working nomad.
Here, I introduce my travel partner @travellinghoast (Her instagram name – Ahhh weirdo ), Who is always there to explore the globe with me. She is vegetarian( and yes it is difficult for me to find veggie food for her but I keep this secret from her ) so every now and then you can also find few post related to veggie restaurants guide in each city where we travelled.
My posts are about my experiences of cultures around the globe.The highlight of all post will be motivating other people who are working as hard they can for saving for tomorrow.And as they say tomorrow never come. So plan today and even better NO PLANNING !!! and get started for your life changing experiences. Many of the the content will help you travel with investing less and gaining more. The experiences what I get after travelling, makes me more open minded, more acceptable and more welcoming to all situations.So you will definitely enjoy my travel stories, and I hope my mistakes and knowledge will make your path more smoother.
सैर कर दुनिया की गाफिल जिन्दगानी फिर कहां ,
जिन्दगानी गर रही तो नौजवानी फिर कहां ।।
Love these lines taken from Rahul Sankrityayan autobiography, which roughly means in english***
Oh you ignorant and idle go and travel all over the wide world,
O oblivious one! You will not get this life again.
If ever life remains, You will never be young again.
Blog - https://nomadicyatri.wordpress.com
Email - rajeshvyas2005@hotmail.com
Initially I am planning to publish one post in a week , so keep eye on every promising Saturday :)