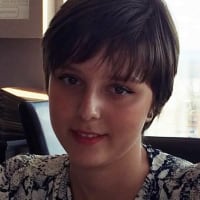 Hi!
I am an eighteen-years-old author and blogger. Rebecca Radd is the pen name I go by; however, my real name is Rebeca.
I live in Romania, Bucharest, and I have currently published three novels in my mother tongue. My blog (https://rebeccaraddblog.wordpress.com) is in English, and there I publish poems, short stories, essays, and articles which might interest aspiring writers.
I am passionate about travelling and I absolutely adore chocolate.
You can expect my articles to be varied, as I am a person who has lots of interest. Still, the main categories you'll find my articles are:
Creative
Voices
Entertainment
Life and Styles
City
I am really happy to be part of My Trending Stories team and I am looking forward to receiving a feedback from you, guys.