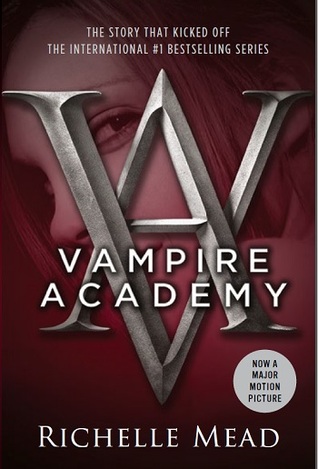 Rating: 3/5 stars
Synopsis: Lissa is the last living member of the Dragomir family, one of the twelve royal moroi families. Rose Hathaway is her best friend and a dhampir - a human-moroi hybrid. After two years on the run, they are caught and dragged back to St. Vladimir's Academy where they have to face the consequences of running away. Rose has a lot of catching up to do if she ever wants to become Lissa's Guardian and protect her from the evil strigoi, undead, immortal vampires with no regard for life. Meanwhile, Lissa has to cope with her status as her family's sole heir and survivor and learn to navigate the world of moroi politics.
---
I have heard so much about this book and I haven't read it until now, because vampire books aren't really my cup of tea. But I figured I just had to read it and see what the hype was all about and this was my second attempt at doing so. I was not that impressed. It wasn't bad, but it didn't really wow me.
I audiobooked it, which did not help at all. The narration was awful, the voices the narrator made for all the different characters were invariably annoying and the intonation and pronunciation was always weird and inconsistent. I do not recommend the audiobook for this.
The story itself wasn't bad. There was a lot of world-building which is to be expected from the first book in the fantasy series, but it was done well so there was no info-dump. There was the right amount of suspense and action and everything. It was a little boring for me because I had seen the film and I already knew what happened, but I can't blame the book for that.
The characters are a different story. Both Lissa and Rose really annoyed me. Rose never thought about consequences, never thought about how her actions might affect others. She was impulsive, immature, irresponsible and really not all that smart. She really frustrated me throughout this book.
Lissa's whole personality pissed me off. She was obnoxiously meek and kind, or at least appeared to be, but she had a real psychotic streak. Nobody is that nice and I felt like that's exactly what Mead was trying to convey by making her kind of bi-polar. I think part of what made her so insufferable for me was the stupid Minnie Mouse voice the narrator made for her. It drove me up the wall.
I liked Christian Ozera well enough, although I can't say there was much too him. But I feel like he's going to be an interesting character in further books. His voice though, needles to say, was annoying. Dimitri was okay as well, although I really don't get why either him or Christian were into Lissa and Rose. I really don't see it. The couples just didn't make any sense to me. I saw no reason why they would like each other aside from hormones, maybe.
I think I will give this series one more book before deciding if I want to continue with it, because I feel like I did not enjoy this book as much as I might have had I not listened to it on audiobook and had I not seen the film previous to reading it.
Have you read the series? Does it get better?
Published by Romana Pop