What is it that is really taught in school now?
Let's push aside the classes, the tests, the exams. There's so much more to it. The first twelve or so years of kids' lives. I'm going into grade twelve. I'm in the International Baccalaureate program and there is so much more to the life school should be preparing us for.
First, let's see what kind of things I get when I look up some topics like this one.
---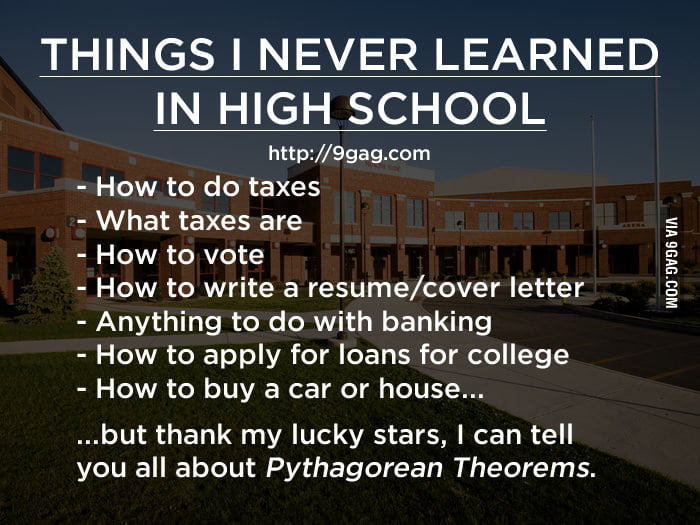 ---
---
So...doesn't seem like a good thing. Especially if you take a look at that last link there. Makes you wonder a bit doesn't it? I know I have for a long time. As a student sometimes I look and think about all it puts on me. Stress, tears, drama, exhaustion, worry. It's not easy when I care about my grades and the future that tells me I need to go to university. While I'm settled on that, I find nothing in high school has prepped me for much when I'm feeling pessimistic.
Except there are some things.
- I've learned to respect others' opinions, that mines not always right and not always wanted. Sometimes it's better to keep my mouth shut.
- You're always going to be judged in life. Tests are just one way to do that.
- Friends come and go. Pick out the right ones to support you along the way.
- Don't bother stressing out too much. It'll just put strain you don't need. If it's stress because of procrastination like what happens so often in my life, then you probably deserve it.
Maybe learning taxes doesn't need to happen quite yet. Perhaps I needed high school to learn some different kind of basics other than the pythagorean theorem. Maybe it was how to act as another person and how to act to others. How to distance myself when I needed to. How to pick my battles.
For some, I see high school as being full of unnecessary drama, stupid mistakes and partying. For others, it's work and tests and stress. Then so many more, getting high, being drunk, playing video games. There are so many things, so many obsessions.
I think they're all just the different stages of growing everyone needs to take.
For me, I know these things and more.
That the test I failed, didn't matter in the long run.
I worked hard on that exam, but I still didn't do well.
I stressed and freaked, but did well anyways.
The drama was there, but I didn't need to let it effect me.
There's a lot to learn in school, I think. Just maybe we never realize it until afterwards.
Published by Shayla Rose