More than 20 email clients across Mac, Windows & Linux use MBOX files to store emails and attachments. Sometimes, users have the need to access the MBOX files in Mac Outlook. In this blog, we will discuss some methods that can import MBOX to Outlook Mac 2019/2016/2011 without losing attributes. But first, let us guide you through some situations in which users need to transfer MBOX files.
When Do We Require to Access MBOX file in Mac Outlook?
There are plenty of situations when users like you will be forced to look for solutions that can import MBOX to Outlook Mac 2019, 2016, 2011. We have some of the most common reasons listed below:
Case 1: Switching of Email client
The most common reason is when users switch from an MBOX-based email client to MS Outlook. Some prime examples are:
Apple Mail to Outlook
Entourage to Outlook, and so on.
Case 2: Switching Operating System
Due to unavoidable personal or professional reasons, users also have to switch from a Windows system to the Mac system. For example, a person working on Thunderbird in Windows had to switch to Mac Outlook due to the company's new policy or a change of job. Thus generating the need to import MBOX file into Mac Outlook.
Try the automated MBOX to PST Converter to easily import MBOX files into PST, PDF, EML, MSG, EMLX & HTML.
Case 3: Export MBOX from Gmail and open in Outlook
Gmail and many other webmail services provide users with the option to download their mailbox data in MBOX format. For a Mac Outlook 2019, 2016, 2011 user to work with the downloaded MBOX file, importing it in Outlook is necessary.
The cases are not limited to just the above-defined ones. There are plenty of other situations as well, but the end-requirement of all users remain the same.
Import MBOX to Outlook Mac 2019, 2016, 2011
It is simply unfortunate that MS Outlook does not provide any option to import MBOX files on Mac. It is also true for Windows. But for this article, we will stick to the Mac variant. Although no direct methods are available, there are workarounds for it. And the two most feasible ones are as follows:
Use Mac Mail as Intermediate
Use Mac MBOX Converter
While you have the flexibility to click and choose from the given options. More often than not, the best method to import MBOX to Outlook Mac 2019, 2016, 2011 is to opt for a conversion program. Why? Because for the free method, you will require to configure Mac Mail, Mac Outlook and a Gmail account. Using IMAP will also consume a lot of time and effort. You will lose any folder structure with a significant risk of losing email attributes and formatting. But for the sake of fairness, we will define both the methods in detail. And then you can decide for yourself.
Converter to Access Files in Mac Outlook
There are many third-party tools available with each having its own sets of advantages and disadvantages. It is up to the user to choose what works best for him. In order to choose the best tool to import MBOX to Outlook Mac 2019, 2016, 2011, it is important to look for performance and accuracy in the software. A good Mac MBOX to PST Converter will always result in accurate conversion without tampering with formatting, attributes, and structure of emails.
Mac MBOX Converter is the best possible choice in this matter. It is a tool dedicated towards Mac users that excels in safe and fast conversion. With extended capabilities to export MBOX files into Mac Outlook PST, it also supports EML, PDF, EMLX, MSG, and HTML format. This software preserves all the metadata attributes and works towards providing a user-rich experience with its powerful features.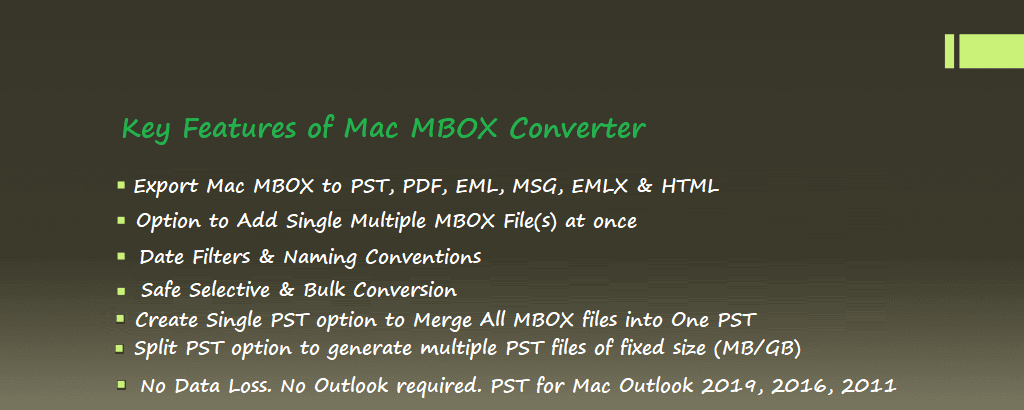 Steps to Import MBOX file to Outlook Mac 2019, 2016, 2011
Step 1: Run Mac MBOX Converter and click on "Add File"
Step 2: Select MBOX files to import in Mac Outlook
Step 3: Apply filters on MBOX emails and choose "PST" format
Step 4: Convert MBOX files and import PST in Outlook 2019, 2016, 2011
To understand the complete working of this advanced Mac utility, please visit the how it works page on the official site.
Mac Mail & IMAP Configuration to Import MBOX to Outlook Mac for Free
Run the Mac Mail email client and click on Mail, and select Preferences >> Accounts.
Look for a + icon and click on it to open the Mail account provider window.
Here, select Google icon and Continue.
Enter the Gmail address & password and click on Next button.
Click on the Mail checkbox and select the Done button.
The account is successfully added with IMAP configuration. Now, create a new folder in the Gmail mailbox and name it accordingly.
Now import the MBOX file that you want to transfer to Outlook. For this, go to Files > Import Mailboxes >Files in MBOX Format > Done.
Select all the emails from the imported MBOX file and copy them into the new folder under Gmail mailbox.
Now open Mac Outlook 2019/2016/2011 and configure the same email address. For this, go to Outlook > Preferences > Accounts [in Outlook 2011, Tools>Account].
You can access all the MBOX emails in Mac Outlook. You can also create a new folder in Outlook and move the emails in it.
Free to try & Perfect to Buy
The flaws in the manual method are crystal clear. Time-consumption, insecure and data-loss risks are some factors that do not exist in a professional environment. Thus users are recommended to opt for the converter tool and import MBOX to Outlook Mac 2019, 2016, 2011 with ease.
Give the free demo version of the utility a try. It will export 25 emails per folder to Outlook PST format. You can see for yourself how effective and convenient it is to use.
Published by Stephen Renald