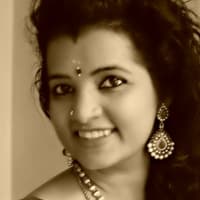 My name is Sumi Nath. The articles you read would be more of my learning in discovering my Self. You would read a lot of articles based on the teachings of Bhagavad Gita. The beauty of the GITA's philosophy can never be expressed through words just like how we could never fully express the BRAHMAN in words.
I am not into any religion or its madness. But I think every ritual or practice that we have today to understand the TRUTH/GOD has a reasoning behind them.
And Bhagavad Gita is not a religious book but instead a study of the Human Mind. The teachings when practiced brings a sense of connection with our very Nature. We would be more mindful and more present and could experience 'Happiness'. I ain't talking about the PLEASURE that we mistake for HAPPINESS. Then our minds would stop chasing Happiness and would start enjoying it instead.
The Ancient scriptures that stood the test of time were the journey of those who were in search of the Supreme Truth. I strongly believe all Holy books of the world if approached with an open mind can inspire our minds to bring more meaning and peace.
Hope you would enjoy reading the articles :)
If you would like to know more about me then do visit my blog. site below.
Blog @ https://menmystiquesnmysticism.wordpress.com/
Facebook @ https://www.facebook.com/BhagawadGitaFor1andAll/