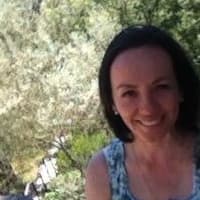 Hi, my name is Tania and I am passionate about food and its power to create health and vitality.
Not long ago I started a blog, http://www.kitchencorrespondent.co where I share my food journey; my experience and recipes cooking for a busy (and always hungry) family with food intolerances and allergies. This followed an extremely difficult and frenetic period in my life, when I developed a very severe form of eczema. The cause was complex; a barrage of stress which included working part-time as a language teacher whilst running a household with three children and two dogs, as well as renovating whilst living in (and helping to manage) the building site (all without a kitchen) and organizing our family's move from Sydney, Australia to Lyon, France. I feel dizzy now just thinking about it. No wonder I suddenly became allergic to almost everything.
I very soberly realized that whatever I was doing in life was not nurturing me. In fact, my body was reacting to most things (and circumstances) I was feeding it. It was when my health hit rock bottom and I gradually started clawing it back, that I recognised food as nature's bounty and miracle and a big puzzle-piece of my path to healing and recovery. It is still a battle and old habits are easy to slip back into; sometimes formed by society's but usually our own expectations of ourselves. I hope that if, when reading about my journey, you do hear those alarm bells ring, then learn from my experience. Act and pull yourself back from the path of burn-out to a much better balance, as I strive to now every day.
Food, cooking and health are not my only passions in life. I am passionate about education, liberty, freedom, knowledge and the empowerment and responsibilities of the individual. I am a fulfilled (and occasionally bamboozled) mother of 1 teenager and 2 young adults and married to my Swiss/French husband whom I met debating in a language school in Germany. To call our family multi-cultural is an understatement.
In my past lives I've worked as an English, piano and language teacher, PA and translator/interpreter for a multi-national, and studied Law in Switzerland and Herbalism in France. Speaking several languages, (four fluently and another few coaxed after a glass or two of wine) I've always been fascinated by the worlds that open up to us through language and the nuances of personality it allows us to explore. I also love music, travel, the beach, catching up with friends and walking Flavie, our personality-plus French Border Collie/Griffon who we adopted while living in France and moved back with us to Sydney, Australia, where we currently live.
I hope you enjoy reading my articles as much as I enjoy sharing them and I look forward to hearing from you and about your own experiences soon.