And as the weekend concludes and Blue Monday (depending on where you are in the world) rises, Black Friday Weekend is done and dusted.
If you're unaware by what I mean, Black Friday is that one day in the year where retail stores decide to switch to bonkers mode and slash prices of all selected items. Okay, here's the real definition. Black Friday is the day after Thanks Giving (typically in the United States of America). For some, Black Friday represents the start of Christmas shopping season, a reason to be mental and shop till you drop.
This year Black Friday was no different. Retail shops were buzzing, consumers were shoving, Black Friday came, saw and caused havoc. From Friday Morning, consumers rushed into major retail stores hoping to snatch the best deals available.
One word to describe BLACK FRIDAY would be MADNESS – Utter MADNESS! It's like a scene from a Zombie apocalypse movie, everybody from everywhere trying to stock up on anything they can. What can I say, we all love a good deal right? Even if it means shoving your neighbour's grandmother in the process. This was retail war I tell you! The war took part in three phases, every phase one will go through or at least see throughout the day.
Phase 1: Road Rage
First thing is first. Heading to that shopping centre will be hell. You'll find yourself in one of many convoys leading to the centre. Be weary, Drivers will evolve into mad crunching opportunists. They will swerve and speed up to cut through anyone who hesitates.
Phase 2: The Fight
If you've reached this phase then you were probably one of the drivers I described above. Regardless, this phase will affect your mind, body and soul. After eventually finding and fighting for parking, you will enter the battlefield. There will be many dangerous warlords ploughing through the masses in their trolley chariots with fire in their eyes. This is where your true strength will be tested, you will scratch, gouge eyes, twist ears, kick legs and punch chests to get where you want to be and what you need to get. Pulling and tugging for that great deal against your newly formed nemesis.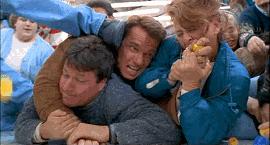 Phase 3: Final Destination
This is the final stretch, this is the part where you're home free, well "almost". The till awaits. Before you get there, you need to plunge through the crowd and blast through to salvation. You're almost there, just keep pushing, two more meters, home free, or so you think - as you are shunt from the side by your nemesis who you took two bottles of orange juice from. You chariot tips and you're left in disbelieve as most of your products are shattered. (There, there, this does not always happen). Let us say, you avoid the shunt; you could be met by a 10-meter line in front of you leading towards the till. This is where you need to be mentally strong, staying in line for 30 – 45 minutes or more? How long will you remain without losing your mind?
Black Hoax
Have you ever thought that maybe Black Friday is some form of consumerism and a diabolic scheme to get you to spend your hard-earned salary, or the products aren't really on sale but are reduced at normal mark-up?
What if we're all just in a hypnotic trance every time we see red that 80% OFF flash by.
Year in and year out, consumption continues to grow, thousands of Americans continue to spend during Black Friday with, an increased spend every year. Even during uncertain economic times, the amount spent per shopper continues to be on the rise.
South African Black Friday
Black Friday in South Africa, might not be as colossal as in the States. However, it seems to be carrying a bit of momentum over the years and amid challenging economic times this continues:
Source: KPMG[2]
KPMG research looked into Black Friday and South Africa. Regardless of high inflation, high interest rates and economic instability, consumers continue to splurge on unnecessary needs and wants. The economic rationale of low spending in difficult economic times is thrown right out of the window due to Black Friday.
The one day in the year where economic rational and consumerism does not make sense. I wonder how much Black Friday contributes to the country's Gross Domestic Product (GDP). A study of that would really be interesting to read.
---
[1] https://www.sablog.kpmg.co.za/2016/11/popularity-black-friday-south-africa/
---
[2] https://www.thebalance.com/what-is-black-friday-3305710
Published by Thabiso Mofulatsi